I had to figure out a Low Dose Naltrexone dose for a dog not too long ago.
A quick look at the doses people said their Vets were prescribing was a bit confusing, as the doses being prescribed were equal to – or bigger than – what is recommended for people. But… people were reporting succcesses with those doses.
After checking out the data that I could find in the literature for the blood levels and metabolism of naltrexone in dogs and people, I think I understand why those doses work.
Dogs' livers break down naltrexone MUCH faster than peoples' livers. So, it takes a bigger dose than you would think necessary to get blood levels that are equivalent to what you have when people take the doses that are recommended for them.
In fact, dogs' livers chew up naltrexone so fast that it probably becomes impossible to maintain adequate blood level profiles in dogs much bigger than a cocker spaniel with a single dose.
The theoretically based graph pasted below illustrates this effect.
The Series 1 line is the blood concentration for a 'normal' sized person plotted against hours on the x-axis…
The lines for Series 2, 3, and 4 are blood concentration levels for increasing doses of naltrexone in a cocker spaniel sized dog.
Notice that the blood concentration level curves fall below the human profile curve for all doses somewhere between 3 and 4 hours after administration.
Basically, what this graph shows is that dogs' livers deactivate naltrexone so quickly that you just can't get a reasonable Low Dose Naltrexone dose that will give a human-like plasma level curve in dogs larger than a cocker spaniel.
So, what can we do?
If I had a large dog I would dose them with a normal 'human' dose two times every evening, with the second dose being given around two and a half hours after the first. If possible, dose titration to effect would be desirable. (in other words, you might have to increase your doses in some predictable manner if the original doses don't work)
But, you often don't have time to do this kind of work. In those cases you'll just have to dose as described and hope the dose is ok.
Too big a dose and it won't work. Too small and it won't work either. Keep this concept in mind. If you increase your doses and don't see an effect think about your doses for a second. They might be too big.
Print this posting out and take it to your Vet. He will understand what I am talking about.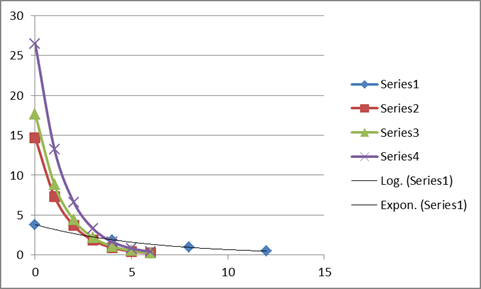 Hope this helps.
Again, remember… I am not a physician. Just a pharmacist telling you what the literature shows. Always seek professional advice from your physician, care giver, or veteranarian… as applicable…